So a few new things to report:
i. PDFs!
In light of the Rise Like Lions site going down, Zine Library not being the most reliable these days, and other sites being either outdated or inconsistent, we've started putting our PDF selection online. You can find it here.
We'll be putting up the remainder of our files over the next couple of weeks, but if you have any good'uns that you don't see and think we should have, send them along.  We're especially looking for PDFs in other languages, got any in Arabic?
ii. Prison Catalogue
We should have a zine catalogue for prisoners finished within the week.  If you know of any prisoners that might be interested, let us know.  To start with we'll mostly be focusing on prisoners within so-called "canada".
iii. New Displays!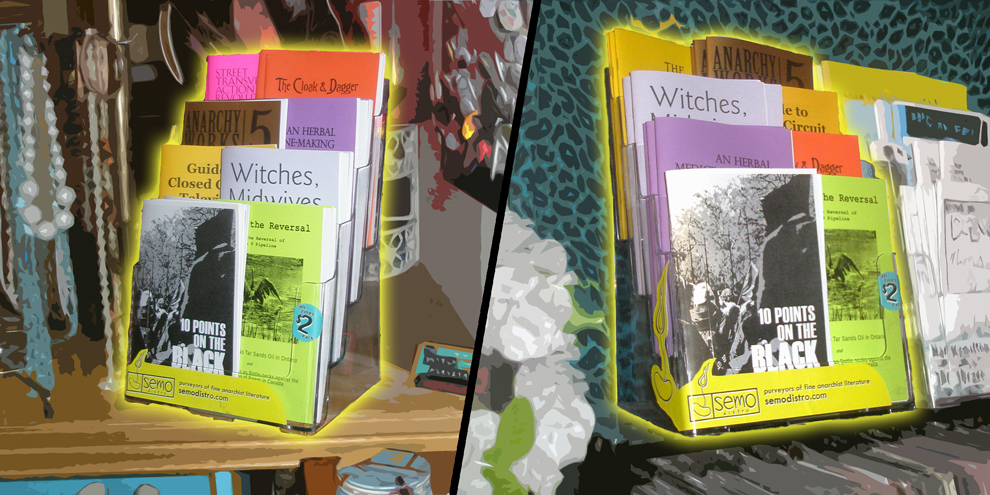 Last week we set up four new zine displays:
Brampton
• Knowledge Books
Milton
• Culture Rising
Mississauga
• Culture Rising (Port Credit)
• Culture Rising (Streetsville)
We're working at spreading anarchy in the suburbs. If you live in the southern ontario suburbia and want to conspire about how to make this happen, give us a holler. semo at riseup dot net.
iv. Libraries
We gave a bunch of zines and a few books to The Well's new library and have plans to contribute to others.
We're excited to contribute to other zine libraries all over the damn place
iv. Email List
The list is functioning! Sign-up for every-month-or-two emails over here.
v. New things
We're still working at getting all our zines on the site, so there'll be new things popping up intermittently.
In the near future we're excited to be getting some books from comrades in the Netherlands, including reprints of A Crime Called Freedom by Os Cangaceiros.
<3
Semo Distro