We've had a few developments since the last update:
-new locations
-Slingshots, Certain Days calendars
-new ish
-upcoming events
-love for Amelie, Fallon, and Carlos
———————–
Semo's now in a few new locations!

While we were sad to see the close of the Button Pushers in Hamilton, there is now a Semo zine display in Mississauga at the neat alternative cafe/community space Studio 89, and some of our zines are now being stocked at the Glad Day Bookshop in downtown Toronto.
Recently, we donated a bunch of books and resources to the Armando del Moro Library, located inside the walls of The Tower, Hamilton's anarchist social space and physical home to our distro.
We also are working to set up a display in London, Ontario as well as a small zine library downtown Hamilton. Stay tuned.
Slingshots and Certain Days calendars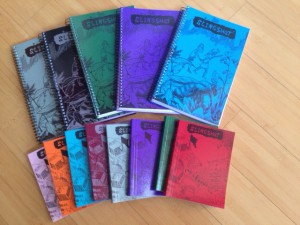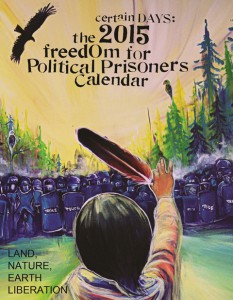 For those that are interested, we now have the 2015 editions of the
Slingshot
dayplanner
(fundraiser for the Slingshot newspaper in the states), as well as the 2015
Certain Days calendars
, which raise funds for various organizations supporting political prisoners. These can be ordered online or found at our home,
The Tower
.
If you're in Hamilton, the calendars are also available from the following locations:
-Hammer City Records
-Artword Artbar
-OPIRG McMaster
In Mississauga, you can get them at:
-Studio 89
New ish
Aside from the calendars, there are some new zines out, including: Rewilding Witchcraft, Against Carceral Feminism, and What They Mean When They Say Peace/The Making of Outside Agitators, about the recent (and imminent) rebellion in Ferguson, Missouri. All of these zines were published by Oplopanax Publishing and can be downloaded and printed at home from their website.
Upcoming events
Before we hang up our tabling pants for the year, there's one more big event coming up, Hamilton's Feminist Zine Fair.
Come out this weekend to say hi – November 15, 10-5, 75 MacNab St S, Hamilton.
Our friends Amelie, Carlos, and Fallon have been sentenced in connection with attacks on a car dealership and a government building in Mexico City.
While the repression of anarchists by any state should not be surprising, this situation hits particularly close to home.
There are a number of ways you can express what stirs in your heart, including donating funds to help make their stay in prison a little less terrible. Funds can be directed to CLAC-Montreal with a note saying that they are for Carlos, Amelie, and Fallon.