Semo Distro is an anarchist distribution project based out of occupied Chonnonton territory in beautiful Hamilton, Ontario (KKKanada). Our dream is to spread ideas that have helped us make sense of this unfortunate world, and to provide analysis so that we may better bring about its end. Towards this goal, we distribute publications in a few different ways, at shows and events, in sympathetic shops, through creating libraries in community spaces, and now, online.
One person that figures large in the work we do is the lone rebel in the dreary suburban wasteland. We're trying to get to you.
Another is the hardened protestor who doesn't do theory much.
If you are either of these people, contact us.
Semo is anti-profit, and all money either goes back into the project itself or is used for fundraising for something. We don't put work into this project to fill our pockets or as some microcapitalist pursuit, we're mostly interested in ideas, and we want to engage in conversations about them. So if you've gotten anything from us, we encourage you to contact us and let us know what you think!
Ⓐ♥Ⓐ♥Ⓐ♥Ⓐ♥Ⓐ♥Ⓐ♥Ⓐ♥Ⓐ♥Ⓐ♥Ⓐ♥Ⓐ♥Ⓐ♥Ⓐ♥Ⓐ♥Ⓐ
Where You Can Find Us
Semo tables at a variety of events in Southern Ontario, mostly in Hamilton.  We have set up distro tables at events such as radical hip-hop shows, conferences, and anarchist bookfairs.  Contact us if you know of an event we should be at.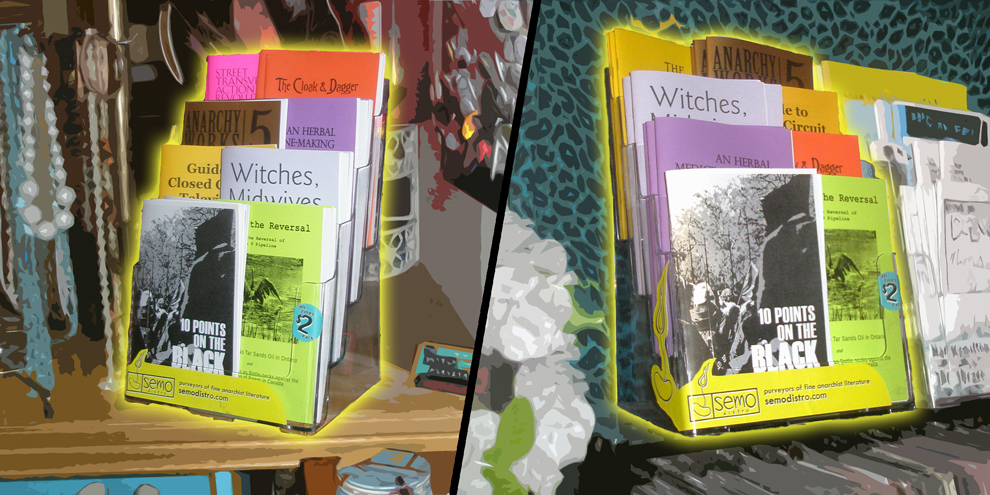 We also have zine displays at the following locations:
You can also find selections of Semo zines and books at the following libraries:
Ⓐ♥Ⓐ♥Ⓐ♥Ⓐ♥Ⓐ♥Ⓐ♥Ⓐ♥Ⓐ♥Ⓐ♥Ⓐ♥Ⓐ♥Ⓐ♥Ⓐ♥Ⓐ♥Ⓐ
On Ordering
We can deliver for free around downtown Hamilton. Or if you're close by, you could pick stuff up in downtown Hamilton.  If you're in Guelph, Kitchener, Waterloo, or Toronto we can probably still hook you up somehow.
Pricing:
∙ where ranges of prices are given, please pay what you can
∙ if you're broke, email us to talk
∙ all $2 zines, and most other ones are free to prisoners, email us to talk
semo[at]riseup.net
Ⓐ♥Ⓐ♥Ⓐ♥Ⓐ♥Ⓐ♥Ⓐ♥Ⓐ♥Ⓐ♥Ⓐ♥Ⓐ♥Ⓐ♥Ⓐ♥Ⓐ♥Ⓐ♥Ⓐ
Sign up for our once-a-month-or-less email list!
Everything on this website is for entertainment purposes only.  We hope you'll use these ideas solely toward entertaining ends.